Training Philosophy
Our Training Philosophy is to Teach. We want to teach you to understand your dog better, so you two can communicate more effectively while forming an unbreakable, trusting bond.
Dogs are intelligent, emotional, & cognitive creatures. They experience feelings of happiness, sadness, stress, and fear, and their behavior reflects those emotions. As Dogs mostly communicate with body language, often people miss or misinterpret signals because they're so subtle. At Tampa Pet Sitters, we don't just want to show you what to do, we want to teach you the how and why behind it. Because Dog Training is more than just teaching your dog commands.
It's about learning how to communicate to them in ways they understand, and learning how to interpret their communication signals, so we understand their feelings and desires in order to give them a happier, more enriching life. We make sure you have a good solid foundation of that understanding, so as we work together on changing your dog's behavior, communication is most effective because it becomes a two-way street. Not just you "barking" out commands. Training this way is more fun for all, promotes accelerated learning, and nurtures the development of an unbreakable, trusting bond between you and your dog.
Our Methods & Tools
During Training, we do not use (nor support the use of) tools or methods that involve pain or fear. This includes: prong, choke, or pinch collars, bark, shock, or e-collars, citronella collars, spray bottles, air-spray cans, air horns, yelling, hitting, leash snapping, or anything else deemed a "correction."
Dogs learn in two ways – by association, their emotional response, and by consequence, by doing. Through a series of positive or negative reinforcements or punishments, these learning methods can be manipulated to teach dogs nearly anything from a choreographed dance, to herding sheep, to sniffing out cancer or detecting bombs. Some of those methods utilize pain or fear to decrease unwanted behavior. And some methods utilize rewards to increase good behavior. While we use several teaching methods, those that use pain or fear will NEVER be used on your dog. We feel very strongly that dogs need patience, understanding, confidence, and a gentle touch when it comes to learning.
Now, we will never lie to you and say those methods using pain or fear don't work. They have been in use and worked for decades long before we existed. However, they come at a high cost and risks. Most people don't think of Dog Training and Science as subjects that go together. But proper training involves both Psychology and Behavioral science. There is a plethora of studies that have proven the negative emotional & psychological damage that these types of training methods & tools can have on a Dog. It can not only damage your bond and their trust in you, but can exasperate aggression issues, increase fear and anxiety levels, and suppress warning signals for bites. They just aren't conducive to forming a trusting bond or raising a well-balanced emotionally healthy dog. And they just aren't necessary for results.
We agree 100% with Veterinarian Behaviorist, Dr. Soraya V, Juarbe-Diaz – Using punishment or fear to stop a behavior certainly isn't anything new. But we don't want to show you how to stop behaviors. We want to show you how to TEACH your dog to choose more appropriate behaviors because they TRUST you. Because the outcome is something they enjoy, not something they fear. By keeping up to date with the latest studies and information in the field of canine behavior and psychology, we can teach you how to manage and change your dog's behavior using kinder, more modern methodologies.
Ultimately, what you choose to use on your dog is your choice. We will never shame you or force you to change. But, if you want to learn a better, more up-to-date, scientifically proven way, we're happy to show you how.
Certifications, Memberships, & Affiliations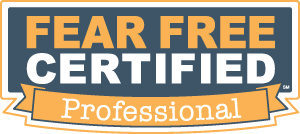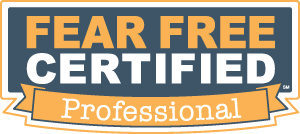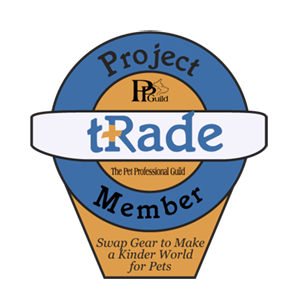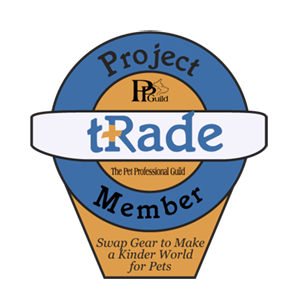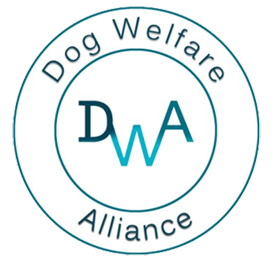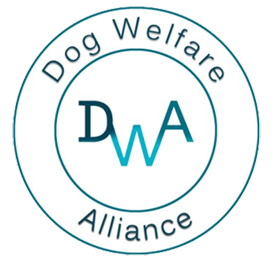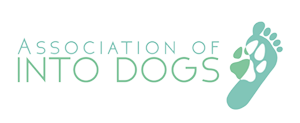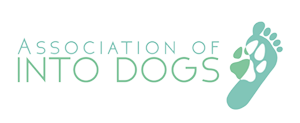 Dog Training Services
All Training Services are In-Home Private Sessions
Our Dog Training services are currently limited in availability and only being offered to:
Current Clients
Rescue Organizations for their Foster Families.
If you are a Rescue Organization looking for help for your Foster Families: please send us a message via our Contact Us page. We would love to discuss how we can help.  Free or highly discounted options may be available.
If you are in need of Dog Walking or Pet Sitting and would ALSO like to discuss Training: Please send a message via our Contact Us page.  Make sure you mention ALL of the services you are interested in.
If you are ONLY looking for Dog Training NOT in conjunction with any other services: we are unable to take in New Training ONLY clients at this moment. However, if you send us a message via our Contact Us page, we can refer you to other Trainers in your area who share our Training Philosophy. We may also be able to share resources for certain issues.
DISCOUNTS are available for ANY client, Current or New, through our Project Trade program. Details Below.
As each Family & their Pups have different needs, we do not offer large packages.
A minimum of  3x Training Sessions(1 Hour) or 4x  Training Visits(30 Minutes) must be purchased to start. An initial consult & evaluation must be done first and there is a non-refundable fee of $75 for this; However, we will give you 10% off your first package as a "Thank You."  Individual Training Sessions & Training Visits can be purchased individually and as needed afterwards. Please contact the office to discuss details and schedule these services. It can not be requested via scheduler in the Client Portal.
Training Services Pricing:
$75 for initial Consultation & Evaluation – PLUS 10% OFF your first package
$210 for initial 3x Private Training Sessions – (1  hr.) w/ Pups & Owners. This includes: Puppy Training, Basic Manners, & Behavior Modification.
$75 per Individual Private Training Session – (1 hr.)
$165 for initial 4x Pup Training Visits – (30min. each) for just your Pup. This is a 1-on-1 between Trainer & your pup, and only for Basic Cues, Loose Leash Walking, and the like.
$45 per Individual Pup Training Visit – (30min.) for just your Pup.
Additional Discounts are available through our Project Trade Program, details below.
PROJECT TRADE
How would you like to TRADE your old Dog Walking & Dog Training equipment for great discounts on our Services?
We want to swap you great discounts off our services for your choke, prong or shock collars or any other qualifying pet gear listed below. By participating in "Project tRade" you can earn up to 15% off services simply by giving us old Dog Walking & Training gear you have laying around. It couldn't be easier! Discounts received for items are detailed below.
PPG  encourages all pet owners and pet professionals to embrace modern, scientifically based, training techniques and tools, especially the latest generation of no-pull harnesses which are free of the risks posed by traditional collars and offer far more benefits. So swap your gear and help create a kinder world for you and your pet!
Trade-in Equipment & Discount Details
If you have something to trade you don't see listed here, just ask and we may include it!
DETAILS:  Each items discount can be applied to our Services in the following ways: Trade 1x item for % off 2x Dog Walks(or Pet Sitting Visits) OR 1x Training Session(or Training Visit). Trade 2x items, receive % off double the amount of services. There's no limit on the # of items you can trade. Can not be combined with other discounts.
Project Trade is the Pet Professional Guild's (PPG) international advocacy program that promotes the use of force-free pet training equipment by asking pet guardians to swap choke, prong and shock collars (and any other devices that are designed to change behavior through pain or fear). Because we want all pets and their guardians to experience the huge advantages and long-lasting effectiveness of force-free training and pet care, we will give you great discounts on our most popular, effective, fun and pain-free training and pet care services in exchange for your old gear.
Effective, humane animal training and pet care methods are the foundation of any animal's healthy socialization and training and help prevent behavior problems. Since a wide variety of equipment and tools are commonly used when training pets, the pet-owning public needs to be aware of the potential problems and dangers some equipment may pose. Specifically, the use of collars and leads that are intended to apply constriction, pressure, pain or force around a dog's neck (such as 'choke chains' and 'prong collars') should be avoided. Distinguished veterinarians and behaviorists worldwide are joining the discussion and calling for the elimination of such devices from the training efforts of both pet owners and professionals.
Respected Veterinarian and thyroid expert, Dr. Jean Dodds, recommends against choke or prong collars "as they can easily injure the delicate butterfly shaped thyroid glad that sits just below the larynx and in front of the trachea. These collars can also injure the salivary glands and salivary lymph nodes on the side of the face underneath both ears."
Canine Behaviorist and Best Selling Author, Jean Donaldson, says: "These devices (choke and prong collars), then they work, do so to the degree that they hurt. With the advent of modern methods and tools they are irrelevant."
Veterinarian and Veterinarian Behaviorist, Dr. Soraya V. Juarbe-Diaz says: "Using punishment to stop behaviors is not new. Notice I say 'stop' rather than 'teach' — I can stop any behavior, but I am more interetsed in teaching my students, animal or human, to choose the behavior I want them to perform because they can trust me, because I do not hurt them and they are safe with me, and because the outcome is something they enjoy."